Photos & Information courtesy of the SWSS Retreat
Statler by Gammill users put their machines to work for a good cause, recently coming together to make and stuff 265 teddy bears, which will be used to comfort children in crisis.
The Stuffable Bear Project was part of the 2015 Southwest Statler Siblings Retreat, held Oct. 21-23 in Mesa, Arizona. Registered quilters received patterns and instructions for quilting a set of four stuffed bears prior to the retreat. They used their own Statlers to complete all of the work. Local attendees were asked to stuff and close their bears. Attendees traveling from other areas brought their bears with them to the retreat for a stuffing party.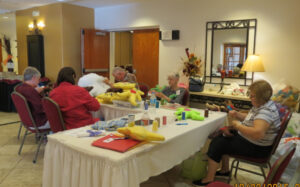 Although attendees were asked to bring four bears to stuff, many went above and beyond.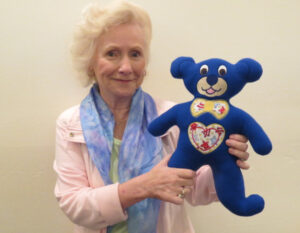 Deborah Cook, a new Statler owner, quilted 70 bears, each one unique. Deborah received the information about the Stuffable Bear Project before she received her new Statler. She couldn't wait to get started and so she immediately got busy and re-designed the bear pattern to stitch it on her domestic machine until her new machine arrived. She also included an embroidered face, heart and bow tie.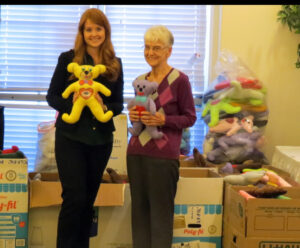 Helping to lead the project was June Lewis, pictured right, who spent countless hours stuffing 24 bears prior to the retreat start. She then spent days at the stuffing station accepting, stuffing, sewing, boxing and sorting donated bears.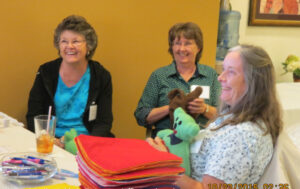 In the end, it took four 10-pound boxes of stuffing to complete the unstuffed donated bears.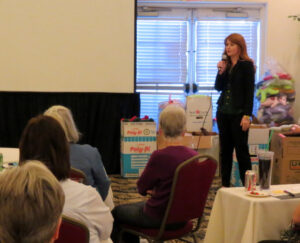 The completed bears were donated to the West Valley Child Crisis Center to distribute to children in need. Jessica, a representative of the organization, visited the retreat to explain the mission of the West Valley Child Crisis Center. She said she was overwhelmed with the generosity of the group and her car was stuffed to the roof top as she pulled out of the parking lot!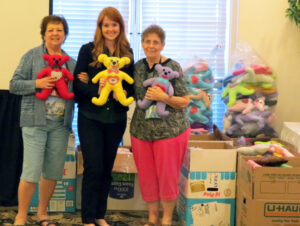 The Stuffable Bear Project was organized by Donna Goldbeck (left) and Janice Bahrt (right). It was an amazing example of Statler users coming together to benefit a wonderful cause!
Gammill would like to thank the SWSS for their generosity and caring and for making a difference in the lives of so many children.