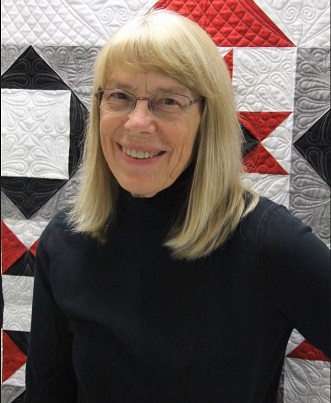 Joyce Lundrigan – Independent Teacher
Plainfield, NH
Joyce has loved sewing and quilting since she was a child. First clothes for Barbie and then clothing for herself. She was introduced to quilting in the early 80's and has loved the process of design, color and execution. During her career as an accountant, she worked for a Fortune 500 business, which was in the motion control industry. The facility she worked at was relatively small, so she had the opportunity to see how the equipment worked, how it was designed and how they tested their equipment. Already, before she retired, she knew she wanted a longarm that was computerized.
Joyce has had her Statler by Gammill since the fall of 2006 and learned to digitize patterns in Autosketch, which is still her preferred design program. Her design approach to digital patterns is reflective of her background in math and the influence from the engineering climate she worked in. Many of her digital patterns, sold through her business, Methodist Hill Quilt Studio, are modular in design. Users can combine tops and bases from different sets to get a different look for different quilts.
Joyce has been a longtime volunteer with the Quilts of Valor Foundation, both as a longarmer and has served on the board of directors.
Joyce has been a Certified Trainer and is currently a CS6.0 Certified Statler Instructor. She thoroughly enjoys sharing her knowledge of Creative Studio with students and through her newsletter, which you can sign up for at: MethodistHillQuiltStudio.com
Sweet 16 Birthday CS6 Tutorial – Order Join and Apply
Order Join and Apply Pattern Project File