When Carolyn Teuton selected her new Statler by Gammill, she knew exactly what color her new machine would be. Pink.
For Carolyn, picking pink wasn't about her love for the color or even the fact that her Gammill is an almost perfect match to her furious fuchsia 2009 Dodge Charger. What matters to Carolyn is what the pink represents, her 40 years as a breast cancer survivor.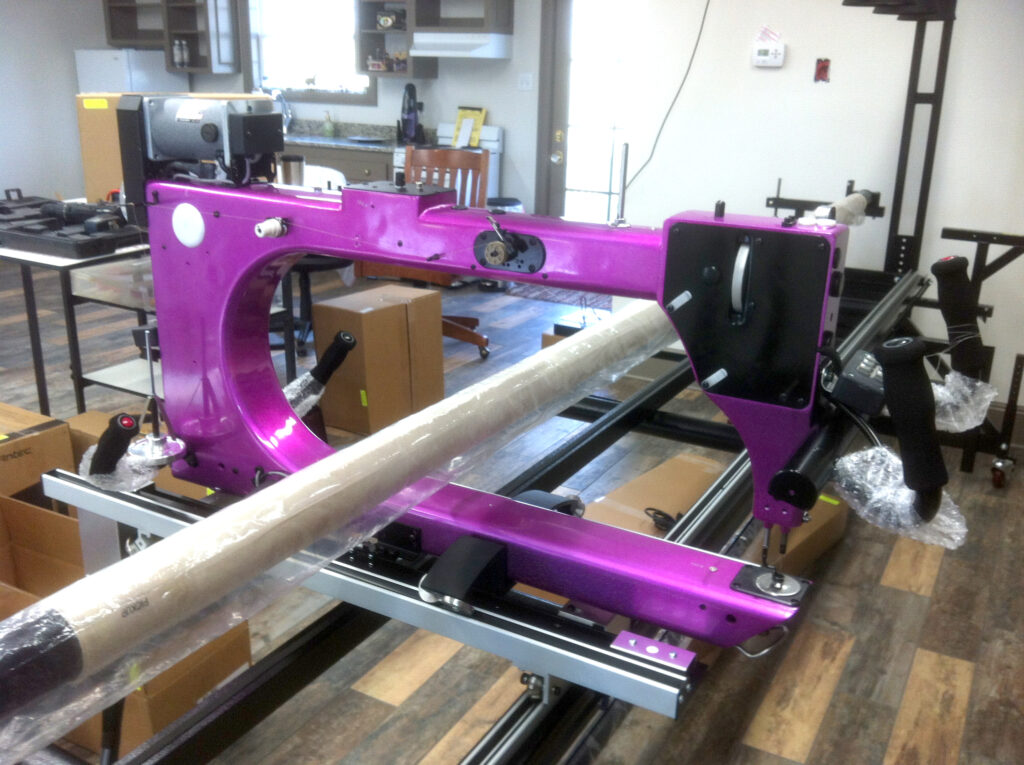 The Houma, Louisiana resident was first diagnosed in with breast cancer in 1975 at the age of 31. She and her husband, Jeff, were the parents of three small children, ages 5, 7 and 9. And, in 1975, the diagnosis was grim.
She fought through surgeries and brutal treatments. And then, for decades, lived with the fear of the unknown, the chance or a reoccurrence, and continued treatment and procedures.
Finally, she was given the best news she could receive, an all clear. Her oncologist released her as a patient. No more cancer visits.
She and Jeff were elated. To celebrate the milestone Jeff, the owner of a Dodge dealership and the owner and operator of a National Championship drag car racing team, painted a Mopar Dodge Challenger Drag Pak, the same furious fuchsia as the street-legal Dodge Challenger that Carolyn drives daily.

"I built it last year as a tribute to her and all that she's been through," he said.
The regional cancer center near their home became involved in the creation of the car as well. Together, they added the slogan, "Drive Fast. Fight Hard," along with Carolyn's name. Not only is it an award-winning racer, it also travels around the country raising awareness for breast cancer.
In addition to the car, Jeff had another fuchsia surprise in mind for his wife, a new Statler by Gammill computerized, longarm quilting machine.
Carolyn has been sewing since she was 16. Her mother was a quilter, meticulously completing work by hand. Although she remembers helping her mother with projects, Carolyn herself didn't begin quilting until about five years ago.
"My sister and I decided to learn how to quilt and started off by taking lessons with a local quilter," she said. "We kept on trying to get better and better."
Carolyn then became a part of a quilting group of about 12 women who meet monthly to work on projects, such as blocks of the month.
"We really look forward to it. We all have the same interest and love quilting," she said.
In recent years, Carolyn also began quilting on a longarm and the more she learned about longarm quilting, the more she became interested in a Gammill.
"I kept reading about the Gammill and how great it was and how easy it was to use," she said.
She and her husband traveled to a quilt show. While she was browsing fabric, he was looking more closely at the machine.
"He got hooked on how the machine worked and the mechanics of it," she said. "He did all the research on the machine and was impressed. Since last year was 40 years as a breast cancer survivor, he surprised me with this special gift."
Their new fuchsia Statler by Gammill was delivered in February by Gammill Dealer Mark Elliott from Stitch-N-Frame in Vicksburg , Mississippi.
"I am enjoying it so much so far," Carolyn said. "I'm excited to continue to learn more."
Jeff is enjoying the new machine too and said he appreciates the education and technical support provided to them.
"When Mark delivered it and set it up, I took all the lessons alongside Carolyn and learned about it," he said. "It's an amazing machine. I'm pretty impressed it's definitely a value received."