Make room for the longarm
Do I really have room for a longarm?
We understand you may be concerned about fitting a longarm in your space. However, we have delivered machines to all types of spaces and locations. You would be amazed at the size of a machine you can fit into a small retail location, a spare bedroom, a or bonus room
The biggest factor that will determine your space needs is the table size you select.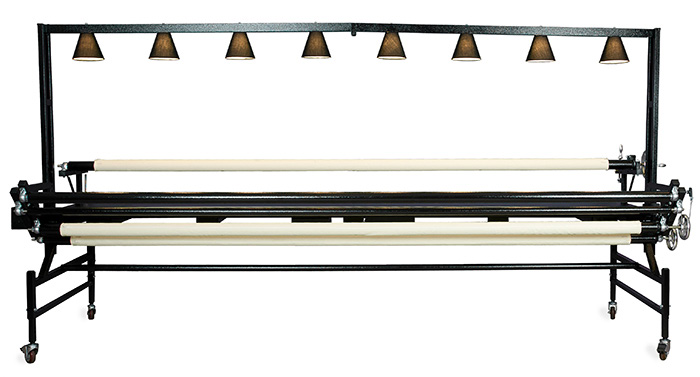 Table Size Options
First, let's take a look at the table size options and what types of quilts each size will accommodate.
10-foot table
If you have a small space, a 10-foot table may be a great option. With 98 inches of quilting length, a 10-foot table can accommodate most quilts. For example, a queen is approximately 90 inches in width.
12-foot table
A 12-foot table is our most popular size and with 122 to 123 inches of quilting space, will accommodate almost all quilt sizes. For comparison, a king-size quilt is approximately 100-inches wide.
14-foot table
If you have space and want to ensure you can take all quilts, such as a king-size bedspread that drops to the floor or quilt multiple quilts at one time, a 14-foot table has 151 inches of canvas and 147 inches of quilting space.
We also offer custom table options including 8-foot and 11-foot.

Space Needs
Next, let's determine the space needed for these table sizes.
For a Home Pro table, which comes with the 18-inch Gammill machine, you will need an additional two feet of clearance so that you can move around the table and roll the quilt properly. For a 10-foot table, this means you would want 12-feet of clearance.
For a Pivotal Access Table, which comes with 22-inch and larger machine heads, you will need an additional three feet of clearance. For the standard 12-foot table, this would equal 15-feet of clearance.
You will also want to determine the depth of clearance so that you have room to quilt from both the back and front of your machine, as well as room for your carriage to move freely. For Home Pro tables, this equals about seven feet of clearance and for the Pivotal Access Table, this is approximately eight feet of clearance.
As you can see from the floor plans, a longarm can fit in many space sizes.  Some ideas from machine placement: basement, spare bedroom, extra living area, dining room, garage, attic, rented space.
If you own a business, you can turn an unused corner or a storage room into a profitable business by purchasing a machine to rent out or quilt for customers.
Note, if you plan to store your longarm in a space that is not climate-controlled with low temperatures, it is recommended that you raise the temperature of the machine slowly prior to using it.  Bringing it out of the cold and running it immediately is not good for the mechanical components of the machine.  Slowly raise the temperature in the room over a period of about 24 hours. Moisture can also be a concern in climate uncontrolled areas as too much moisture could be a potential cause for mechanical component issues, mainly rust.  Talk to your local dealer if planning to store your Gammill in an uncontrolled environment.
Next Steps
Our professional dealers can assist you in each step of the process.  Click the links below to take the next steps to find a Gammill that works for your space.