Organizing Your Quilting Business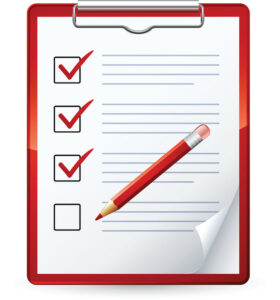 By Kelly Gallagher-Abbott, Jukebox Quilts
A streamlined process for how you will receive and handle quilts can make life easier on you and your customer. Clear expectations and good communication are sure to provide better customer satisfaction and better organization for your quilting business. Learn more about longarm businesses and Gammill's business start-up  special by clicking here.
Intake Form
The best place to get all the information you need is when your customer delivers their quilt. Create an intake form and a system for organizing completed forms whether in a binder or electronically.
Here are some items you may want to include on an intake form:
Customer name and contact information
Drop off and due date
How they heard about you or referral source
Measurements of quilt
Disclaimer and permissions – some examples to include

Disclaimer about variances in quilting
Permission to photograph the quilt and use the image (you will need this if you wish to use photos of the quilt on social media or in other marketing efforts).
Agreement on credit for the quilt if entered into competitions, publications, etc.

Design or pattern approval with notations from customer
Project File – If using CreativeStudio, include a jpeg of the mockup and note the location of the electronic project file
Rates & Charges – Make sure quotes are realistic. If something unforeseen arises, immediately contact the customer.

Rate by the inch or the stitch (include a space for final time or stitch count)
An estimate of quilting charge
Additional charges such as thread, batting, binding, etc.
Project Management
Consider how you will organize your business. Those taking advantage of the Gammill Fall Business special will receive a free copy of Machine Quilters Business Manager Software. Click here to learn more about this software, which includes many of the tools covered in the intake form section of this article. Here are some other programs and tools that may be helpful in keeping your business organized:
Quilt Preparation
Let your customer know how to prepare their piece for longarm quilting. You can click here for a sample guide from Jukebox Quilts. Receiving quilts in a standard way can make the organization process go more smoothly.
Task List
Develop a task list that is to be completed for each quilt. Here are examples of what may be included on your list
Complete intake form and planning session
Photograph top and back of quilt with customer present
Document the intake and dates on calendar or project management software
Procure a pattern or design
Receive pattern, thread and batting
Order Supplies – thread, batting, etc.
Schedule dates to begin and end quilting
Complete invoice
Photograph and document completed quilt
Notify customer of quilt completion
Deliver quilt
Photograph customer with quilt for social media and your gallery
Send a thank you note or coupon to the customer
Send a thank you note or coupon to the referral source
Request feedback on customer satisfaction, utilize positive comments on your website, Facebook and other social media pages.