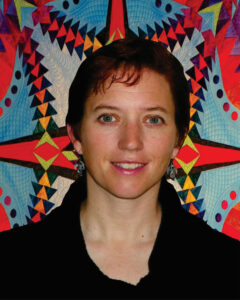 Kris Vierra, Quilting Artist
Location: Lincoln, NE
Quilting Experience: 20 plus years quilting/sewing and 9 years longarm quilting
Kris Vierra has been a quilter/seamstress for more than 20 years, and a professional longarm quilter for 9 years. She teaches at national shows and guilds across the country, and has won numerous national awards for her machine quilting skills over the years. Most recently, Kris was awarded the Best Longarm Quilting at AQS Phoenix 2016 and AQS Des Moines 2016, the PFAFF Master Award for Machine Artistry at the Houston International Quilt Festival in 2015, and Best of Show at the Northwest Quilt Expo in 2014. In addition to teaching, Kris does commission Fiber Art. Her most recent work can be seen on the Album Art for the Australian band the Avalanches' new album "WildFlower."  She also runs a full-time longarm quilting business and is designing her own line of longarm rulers and wholecloth quilt stencils. Kris' classes focus on teaching quilter's how to expand their knowledge base and to break out of their comfort zone. She believes quilting should be fun and not stressful. She also teaches classes on starting and growing your own longarm business using social media.
You can visit her web page at www.kcustomquilting.com
And her blog at www.quilterontherun.com
Quilting Tips: I love the concept of being consistently inconsistent. Trying to make everything exactly the same and perfect is not only impossible it is very stressful. Instead I like quilting designs that are all just a little different or consistently inconsistent. This allows you to have beautiful flowing designs without the stress of "hitting" every line exactly perfect.