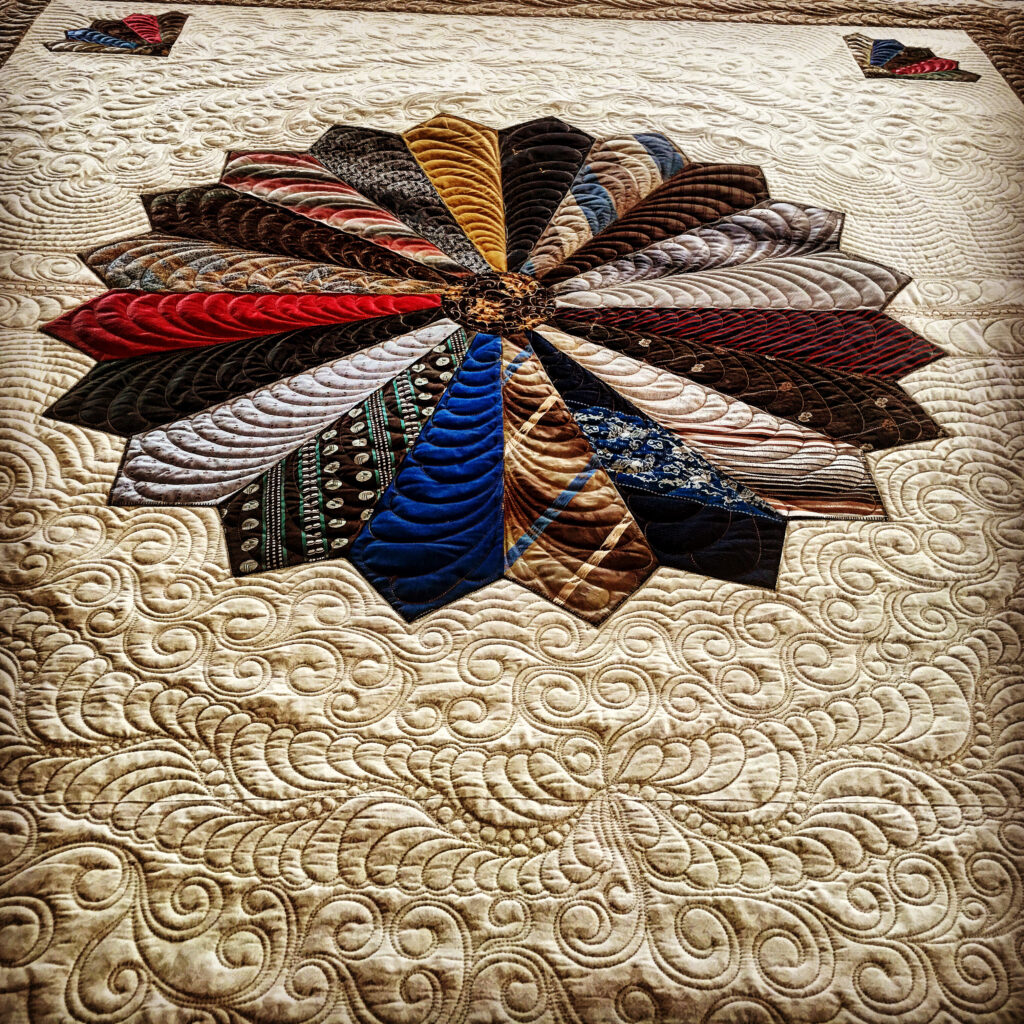 By Patricia Coleman Hudman
Facebook.com/Melody.Hill.Quilts
HudmanHome.wix.com/MelodyHillQuilts
The Beginning of Melody Hill Quilts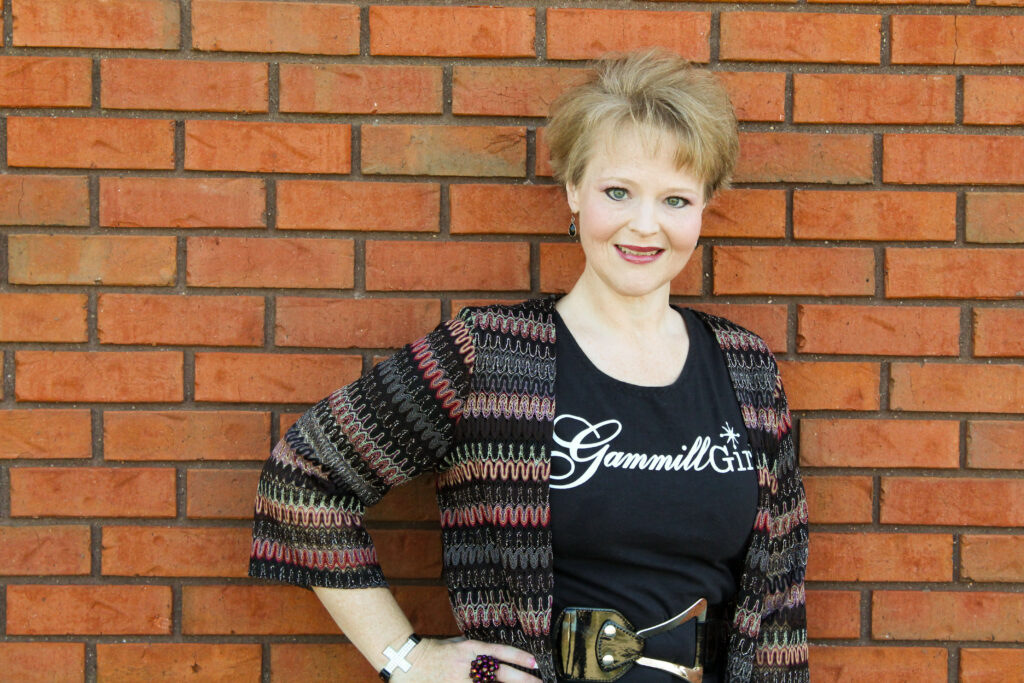 For the past 14 years, I've been sharing my love of quilting with clients. My Mother and I began our business, Melody Hill Quilts, together in 2002.  We work as a team, with her piecing the tops and me at the Gammill longarm quilting machine.
In the beginning of this journey, we purchased our Gammill for our own enjoyment, as a way to finish our personal projects faster than with our hand quilting, which we enjoyed for many years before that. With my Mother at her sewing machine, piecing beautiful quilt tops, and me taking my position as full-time longarm quilter, I became more comfortable with my skills.
My free motion techniques developed as I worked on quilting those tops Momma would make for friends and special occasions like weddings, births, and graduations. When those friends shared their quilts with their friends, I started to get calls from the public asking about my quilting services. To my surprise, after only two days of "formal" training and a few months of trial and error, I had a career opportunity present itself to me. Never had I even given professional quilting for the public a thought before then and all of the sudden I was getting calls, requesting work from my hands and my heart!
Had it not been for my love for quilting that grew after I became well-acquainted with my longarm machine, I never would have realized this dream of doing what I love the most and actually getting paid for it! It is a craft that is ever-challenging. With a passion for free motion quilting, one never feels as though they have "arrived." When I begin to feel somewhat comfortable with new skills, I find there is always one more level to strive for. My Gammill Classic Plus has made this dream a reality for me.
The Tie Quilt
Each quilt and project is special but sometimes we have the incredible opportunity to finish a quilt that will not only keep a client warm or look beautiful in their home, but will be a cherished reminder of someone they love. When Karen brought us a stack of ties from her father-in-law who had recently passed away, it was such a meaningful experience to use them to craft two quilts, one for her husband and another for his sister. I know these quilts will be a precious reminder and a family heirloom for generations to come.
A New Venture
Not only is it an honor to create these quilts for families, it has also been an unexpected turn in the road for Melody Hill Quilts. The introduction of memorabilia quilts, such as the beautiful Neck Tie Quilt, has helped to pave the way to success.
I have always kept busy with local business and the occasional out-of-state project, but in more recent days, sharing these quilts (mostly on Facebook) has made a huge impact on our business.
Whether it be quilting a quilt top made by a client, or one made by our own hands, I see my future filled with opportunity now. With a lot of hard work and determination, Melody Hill Quilts has grown to a three-team staff including Ann Coleman (my mother), and the recent addition this year of Melissa Cole (my sister), who both work tirelessly, piecing beautiful custom-ordered quilt tops. With myself at the longarm machine, we complete projects that now find their homes beyond the borders of my home state of Alabama. I started this dream close to home but now I know I can go as far as I can dream in this world of quilting.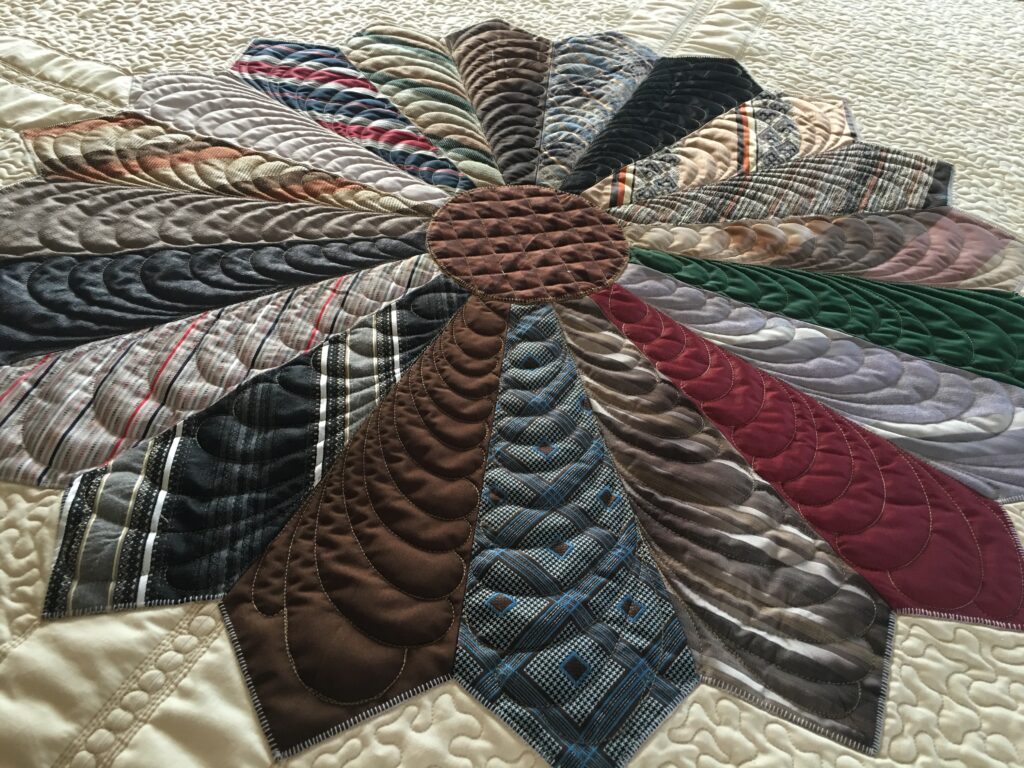 Thanks to Gammill for providing a quality machine that has helped many before me and many to come enjoy success in a field that is full of opportunities. The world of quilting has allowed me to enjoy new friendships, new skills, new self-worth, as well as abundant business opportunities! I am looking forward to the next 14 years!
Learn more about Patricia and the team at Melody Hill Quilts by visiting their website at: www.facebook.com/melody.hill.quilts or http://hudmanhome.wix.com/melodyhillquilts