Update 3/13/2020: The Sew N Sew will be closed through March 27, 2020. Please call 626-852-2223 for parts, supplies and assistance.
Gammill Dealer for Southern California
The SewNSew has been serving the Glendora, California sewing commun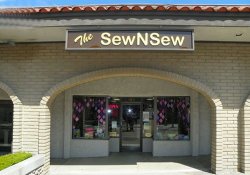 ity since 2010, offering an extensive selection to meet a wide variety of creative needs.
The store originally opened in a small 950-square-foot space, but within three years expanded to a 4500-square-foot space, housing nearly 7,000 bolts of fabric.  At SewNSew, we truly enjoy the beauty of fabric and thread, as well as the creative process that blends them into unique pieces of art.   Our classes, taught by qualified teachers in a friendly, no-pressure atmosphere, are designed to help each student succeed at sewing, no matter their age or skill level.