Why buy a Gammill for your longarm business?
1. Our lifetime warranty includes commercial use on the machine.
2. We offer easy financing options through American Financial Partners. Make payments on $15,000 in financing by completing as little as two customer quilts each month.
3. Our pricing includes everything you need to run your machine and, with our business special, receive even more supplies to get you started! Click here for a price comparison of other longarm brands.
4. Our machines are built to quilt day in and day out for many years with features such as durable cast aluminum and steel machine head and an all-steel, industrial grade table.
Tips for a successful quilting business
Many quilters use their longarms to run successful quilting businesses. Here are tips to help you in your quilting business endeavors.
1. Use pantograph or Edge-to-Edge to complete a high volume of quilts.
2. Custom quilts take more time. Make sure your rates reflect this. The April 2015 issue of American Quilt Retailer highlighted some things to consider when setting pricing:
Charge higher rates for heirloom or custom quilts.
Factor additional costs for thread, batting, and backing.
Include preparing and attaching binding.
3. Advertise at local quilt guilds and fabric shops.
4. Longarm Rentals:
Rentals can be charged by the hour or by the number of stitches.
Consider requiring a "Driver's License" class, which teaches the customer the basic operations of the machine for a small fee.
Make the best use of your space. You may consider having a designated space for the rental longarm.
Designate one person to oversee the longarm rental.
5. Have a business plan (see below for samples).
Business Resources
Visit our blog for the latest news & articles.
IRS Section 179 tax break benefits new quilting business start ups
Financing & Your Quilting Business
More financing information is available here.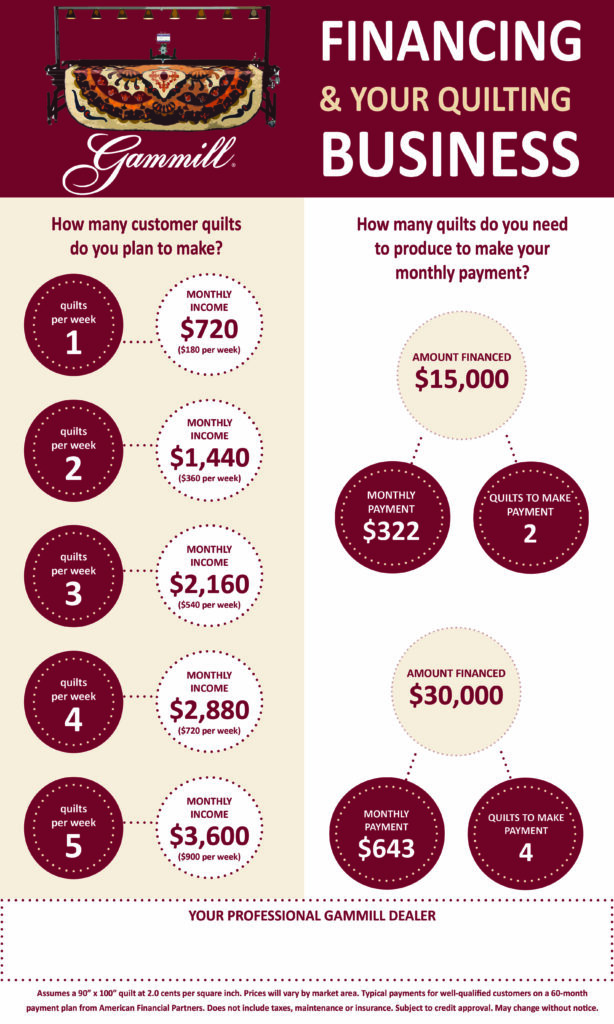 Contact us to learn more or schedule an appointment to test a Gammill longarm machine.
Featured quilt by Sharon Blackmore
Configure your dream quilting system
Contact a dealer for more information