Return to A Quilter's Story Homepage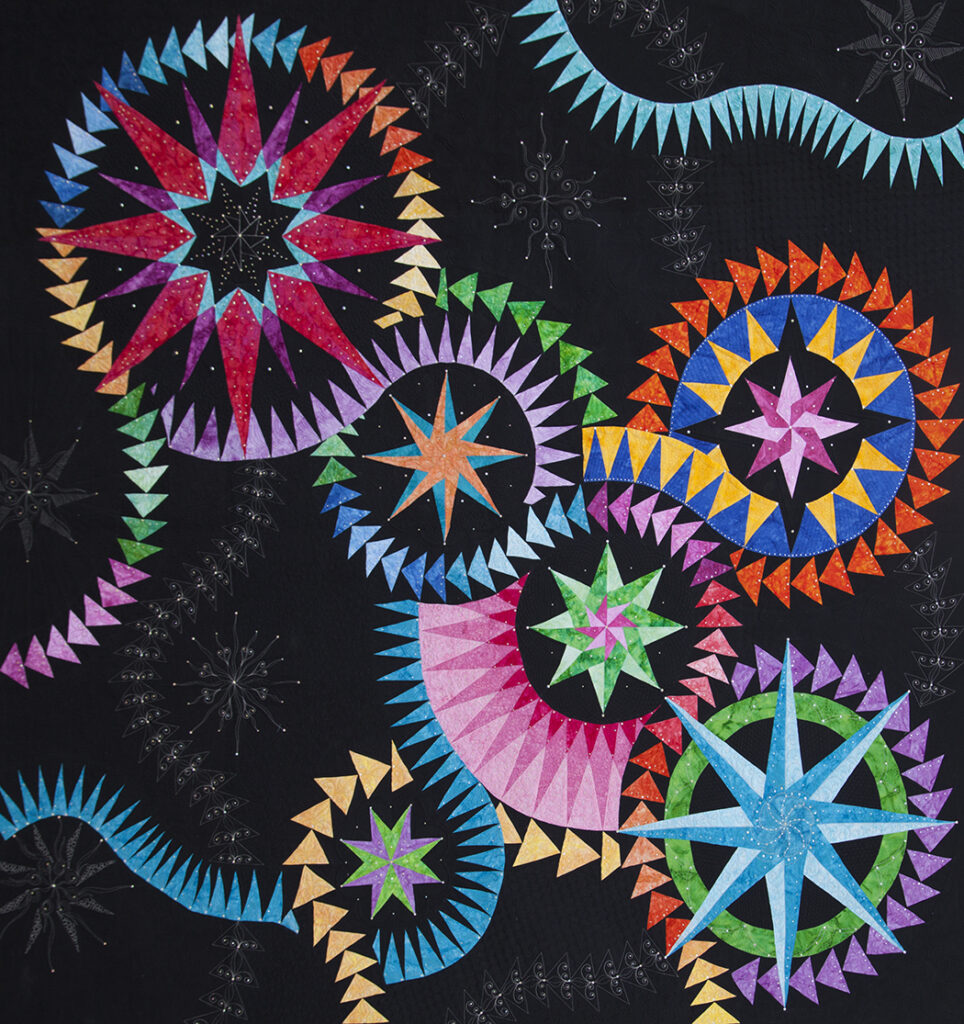 Outta the Loop
A Quilter's Story
By Karen Marchetti
Gammill Quilt Artist
Eyvonne Smith and I decided to do a collaboration quilt. We decided on the "Elements of Nature" pattern by Jacqueline de Jonge but decided to modify it. I convinced Eyvonne we should draft out the pattern large as well as add more elements to the quilt. Eyvonne started the piecing and then each month we would look at it, remove some things, add others, etc. Eyvonne laughs now (during the adding and removing she was definitely not laughing) and says "this quilt has been sewn, unsewn, and resewn."
After piecing, it came time for me to quilt. I was drooling over all the negative space. Eyvonne was worried about all that space. I think it's funny when two opposite personalities join together to create – it becomes interestingly fun!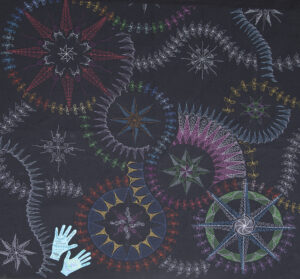 I spent several days drawing and marking the stars as well as the geese patterns. I loaded the quilt on the frame and began quilting. I didn't get very far into the quilting process when we lost our dog, Mabel.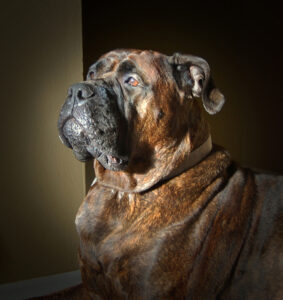 I was mourning her loss and could not bring myself to quilt. One night my family brought home Chinese food and my fortune cookie said "the cure for grief is motion."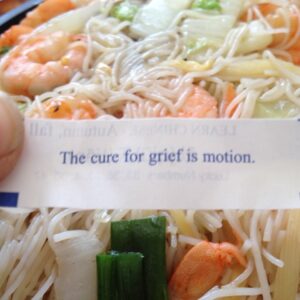 That fortune really got me thinking – I needed to work on the quilt – I needed my heart to heal.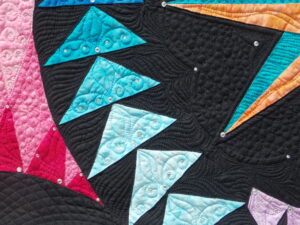 I went back to quilting and the tears just kept rolling. The focus of quilting this top truly helped me to get through my grief. There are a lot of healing tears in all those stitches.
Our labels for the quilt are outlines of our hands – I included the fortune and a little memory of stitching my peace.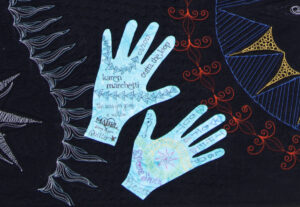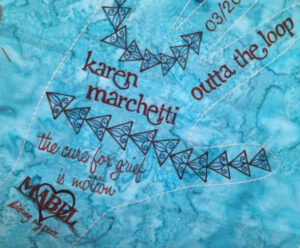 More from Karen Marchetti
Karen's Artist Profile for Gammill
Karen's Customer Quilting Blog
Karen's Website – Creative Longarm Quilting
Outta the Loop Awards & Recognition
(74×75) 2013 – Collaboration with Eyvonne Smith
9/2015 Best Longarm Quilting – Innovative – PA National Quilt Extravaganza, Philadelphia, PA
1/2015 Finalist – Road To California, Ontario, CA
7/2014 1st Place Wall Computer-Aided American Quilters Society (AQS) Charlotte, NC
5/2014 3rd Place Novelty Custom – Home Machine Quilting Show (HMQS), Salt Lake City, UT
2/2014 Best Machine Quilting – Port St Lucie Crazy Quilters Biennial Show, Port St Lucie, FL
2/2014 1st Place Large Pieced – Port St Lucie Crazy Quilters Biennial Show, Port St Lucie, FL
1/2014 Judges Choice (Jennie Rayment) – World Quilt Show FL (Mancuso), West Palm Beach, FL
1/2014 Featured Interview – Bonnie McCaffery VidCase #090 "Int'l Quilt Festival 2013 Part 2"
10/2013 Finalist – International Quilt Association (IQA) 2013 Fall Festival, Houston, TX
5/2013 Finalist – Machine Quilters Showcase (MQS/IMQA), Wichita, KS
4/2013 Faculty Award – MQX Quilt Festivals New England (MQX), Manchester, NH
4/2013 Finalist – MQX Quilt Festivals New England (MQX), Manchester, NH