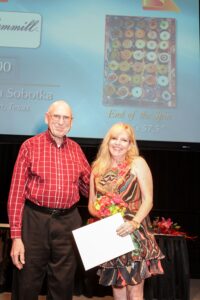 Gammill was pleased to support the incredible talents of quilters at the International Quilt Market and Festival by sponsoring the Gammill Master Award for Contemporary Artistry. Paul Statler, creator of the Statler by Gammill, presented the award to Melissa Sobotka of Richardson, Texas, for her quilt, End of the Spin.
Congratulations Melissa and all of the artists recognized in Houston!
Photo by Kim Coffman/Courtesy of IQA.