In 2017, Michelle Oberlander of Redding, California was the lucky winner of a Gammill Vision 2.0!  Michelle recently shared an update with us on the quilts and projects she has been working to complete since receiving her new machine.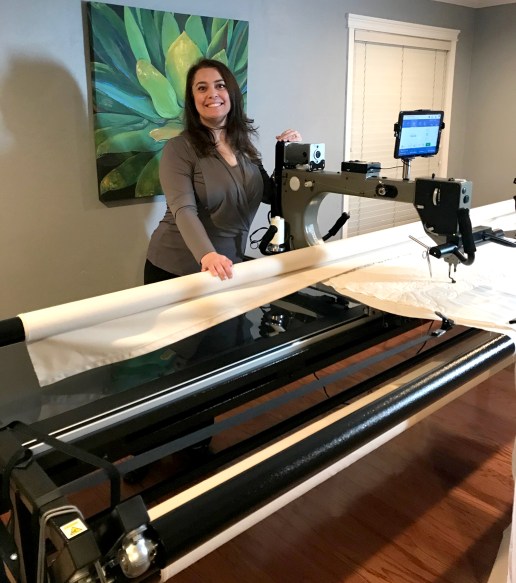 The blue and white quilt is representative of Michelle's husband's time as a tanker in the Army, and is an enlargement of the division patch he wore on his uniform.
The Bargello, she said, gave her the chance to try a new method and have something fun to quilt.
This pictorial quilt was a homage to her grandmother. It includes some of her favorite things, Nutcrackers, Raggedy Ann and Andy, and jam, which they spent time together making. Michelle said she logged between five and six hours of stitching time on this quilt and her grandmother loves it!
In addition, Michelle has made a total of five quilts for her guild's philanthropic group and another charity. Currently, her community is experiencing devastation due to the Carr fire and she plans to quilt more for charities related to the disaster.
"There is so much to learn about longarm quilting and skills to build; and with each quilt I make I feel like I get a little better," she said. "My machine now shows 1.7 million stitches and 28 hours of stitching.  Thank you again for this great gift! I love my Gammill!"