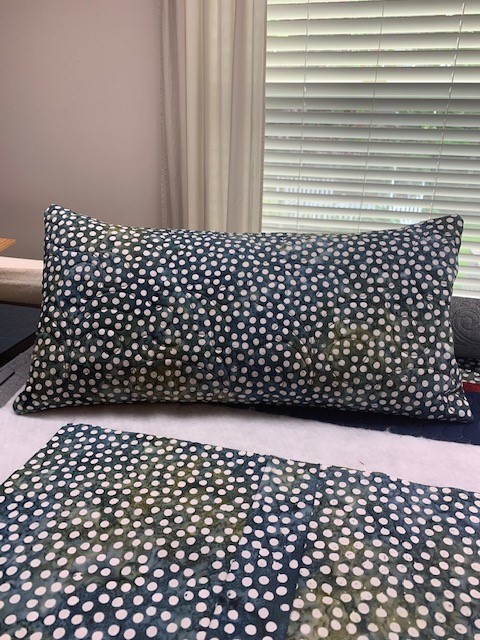 Facebook Live: Pillowcase Project
FaceBook live:  Pillowcase
By DeAnn Perrigo
Measure pillow
Measure all the way around the pillow, both height and width.
Measure and cut fabric for pillowcase front

Measurement ÷ 2 = ___ + 1.5" = ____ for each direction
My pillow: 42 ÷ 2 = 21 + 1.5" = 5" and   21 ÷ 2 = 10.5 + 1.5" = 12"
Cut fabric to fit your pillowcase size front (mine was 22.5 X 12").

Cut fabric for pillowcase back

Cut 2 pieces of fabric that are the height of the pillowcase front.
They will not be as wide.
Use selvage sides, if available, and fold over 2" and press.
Now lay over the pillowcase top to measure. Folded edges should overlap 1-3" depending on the size of the pillowcase.  (Being long and narrow, I needed to reduce the overlap for my hand and pillow to fit.)
Mark and then cut to the size of the pillowcase front. (Mine were 15" before pressing over 2".)
Quilt pillowcase front

Layer pillowcase front, right side up, over backing and batting that is preloaded onto longarm.  This needs to be larger that the size of the pillowcase(s) you are making.
Quilt as desired. (With CS7, I used Swirls & Feathers 3 BLK PANT by Judith Kraker).
Add pillowcase back

Layer pillowcase backs, right sides down, overlapping folded edges, over quilted pillowcase front.  Stitch 1/4" inside of edge, all the way around the pillowcase. (With CS7, I used Draw Line to create the stitching line.  This allowed me to use both hands to ensure folded fabrics remained flat.)
Finish pillowcase
Remove from longarm

Cut around pillowcase
Turn right-side out
Stuff pillow into pillowcase