CREATIVESTUDIO® 7.1 
CreativeStudio 7.1 and a new and improved PatternCloud website will be released the afternoon of Oct. 30, 2018. Many of the improvements and changes in 7.1 and PatternCloud have come from feedback from our users and we are excited to share these changes with you.
How to install CreativeStudio 7.1
If you are currently using CreativeStudio 7.0 and are connected to the Internet, once the new version is released, you should receive a prompt to update to CreativeStudio 7.1. If you do not receive a prompt, open CreativeStudio 7.0, click Service and select Check for Updates. Follow the instructions on the screen. If you use this new update method the Installer may stop on a message that CreativeStudio needs to close. If this happens then you will need to right click the task bar (or click Ctrl, Alt, Del), then click Task Manager, then right click CreativeStudio from the list, then pick End Task. The install will finish as normal.
If you are not using CreativeStudio 7.0, visit Gammill.com/CreativeStudio7 and click download to begin the installation process.
CreativeStudio 7.1 highlights
Manage tags & Collections: You can now sort, organize and tag your collections more simply. This feature lists all of a user's tags and collections as well as the patterns associated with the tags and collections. This allows you to easily remove patterns from collections or make corrections to the tags and collections.
Roll Quilt Improvements: To prevent drifting in edge to edge, roll quilt now ignores movement in the X axis.
Auto Suggest: When typing in a field such as tags, previous tags are automatically suggested based on the first few letters. This allows you to easily browse potential name matches.
Drag & Drop from PatternCloud store: Now, store patterns can be dragged onto your quilt group just like any other pattern. This will allow you to easily preview the pattern. Please note, you will be unable to stitch out the patterns unless they are purchased.  In addition, store patterns can be used in any of the setups.
Show Video: The default tool strip now has a Show Video feature. This links to the online video library to assist you in your day to day quilting. You can select videos to watch to guide you through the tools and processes you are using.
Other Improvements:  The sync patterns function has been improved to sync patterns much more quickly, the order join function has been improved and the number of undo points increased.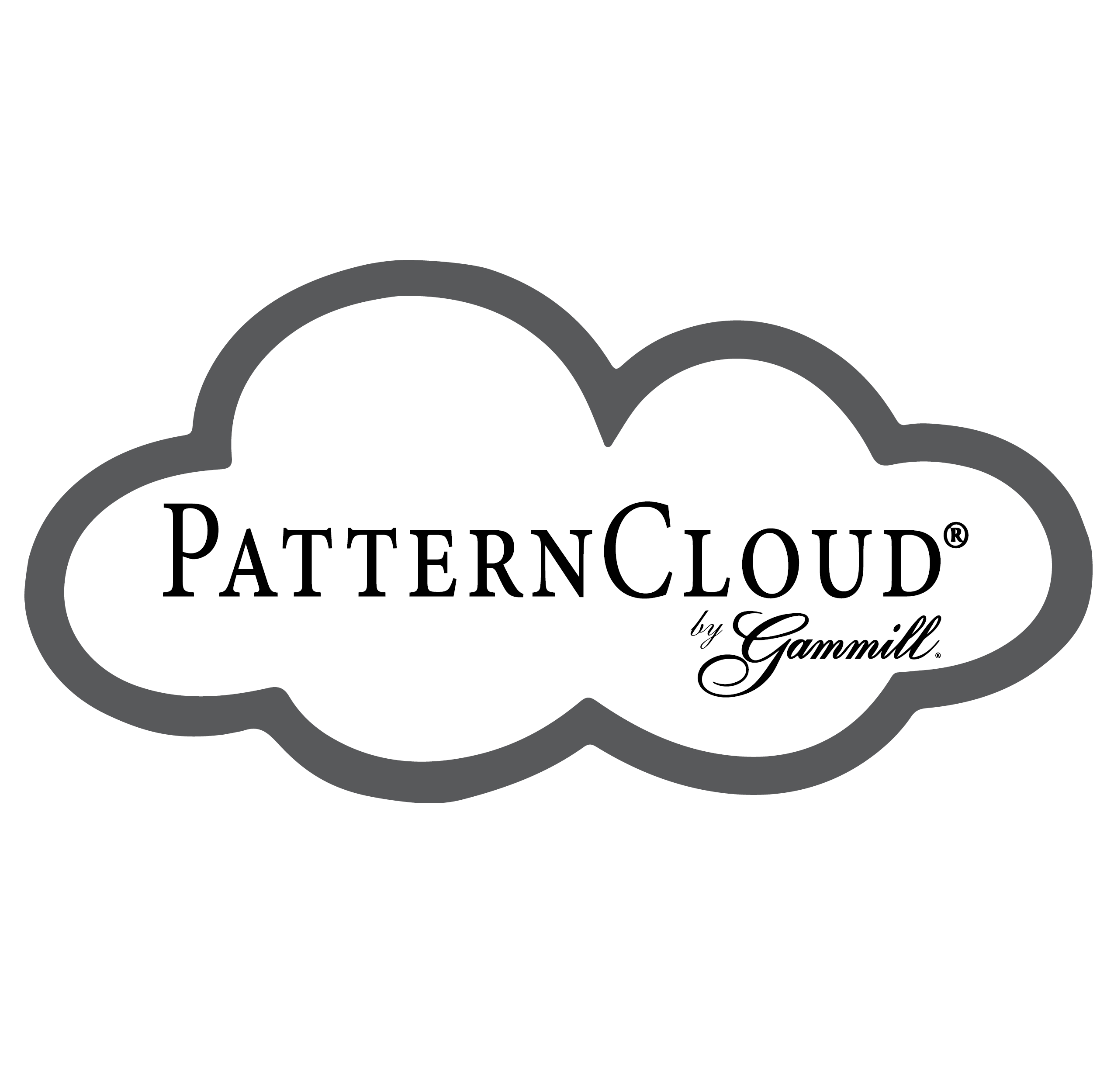 PATTERNCLOUD®
Also on Oct. 30, 2018, Gammill will launch a redesign of its PatternCloud website complete with new and exciting features.
About PatternCloud
With thousands and thousands of patterns available on the Internet, browsing, searching, buying, and organizing patterns can leave quilters in need of a simple management solution. Gammill's PatternCloud is a free service that integrates with both the Gammill Elevate and CreativeStudio software.  Anyone can access the PatternCloud by visiting PatternCloud.com.
With the PatternCloud, you can:
Organize your patterns by designer, type, tags, and more.
Maintain a secure backup of your pattern library.
Browse, search, and purchase new patterns from designers.
Access patterns from another location, such as your stand alone mode laptop.
Updates to PatternCloud
Updated Design: A new user-friendly layout guides you through the process of searching, buying and organizing your patterns.
Wishlist:  A new wishlist option allows you to favorite patterns you would like to purchase in the future. And, it allows you to share your wishlist with someone to provide great gift ideas.
Pattern Management Improvements: The new PatternCloud website allows you to edit multiple matters at once. For example, you can select multiple patterns to add the same tag.
Catalog: A new print-friendly mode allows you to create and print a catalog of your patterns.
Pattern sets: A new pattern set feature groups patterns that work well together, for example, a border and corner designed to go together or a medallion with several components. You can create your own sets using patterns you own or shop by sets in the PatternCloud store.
International Sales: Customers in Australia, New Zealand, Europe and Canada will now be able to purchase patterns from the PatternCloud.
Visit PatternCloud.com for more information.