Update 3/13/2020
Gammill family,
We know many of you are concerned about our upcoming Gammill cruise and the impact of the coronavirus on travel.
Please know, we are in close contact with our Royal Caribbean representative and are evaluating the situation regularly. With nearly three months left to sailing, we are still looking forward to an incredible and fun cruise experience with our Gammill family.
There will likely be a change to our itinerary due to the closure of Canadian ports through July 1, 2020. According to our Royal Caribbean representative, this could mean an alternative port stop. We will update you as soon as we receive more information and an updated itinerary.
For those who are concerned and would like to continue to monitor the situation there is no additional loss of funds beyond the original deposit for cancellations made through May 1.
Your safety is important to us and we will keep you updated as the situation is being continually evaluated.
Registration Link
Set sail with us! A $200 deposit is due at the time of registration.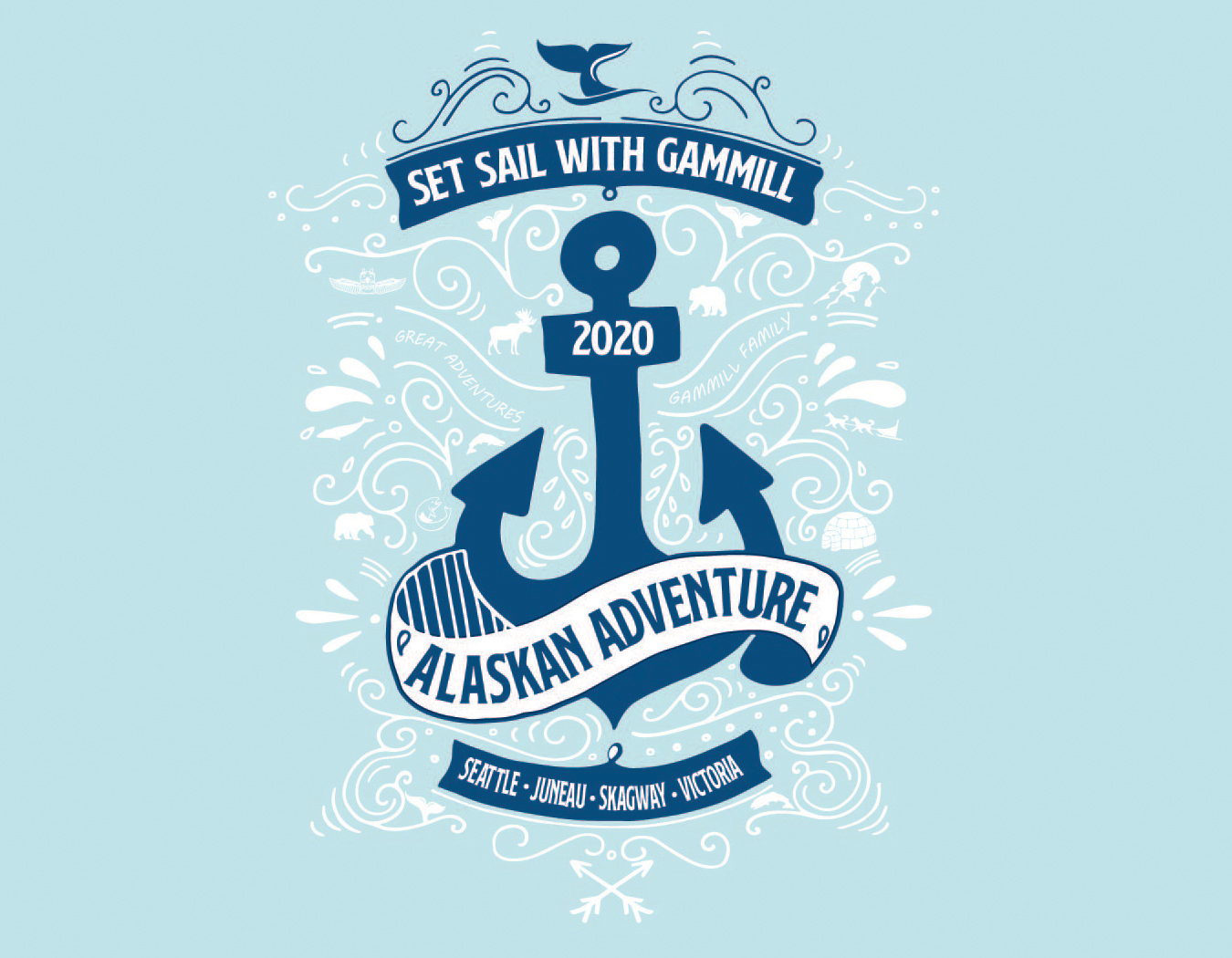 Join us on Royal Caribbean's Ovation of the Seas for Gammill's first-ever Alaskan Cruise! We set sail June 5, 2020 from Seattle, Washington on a seven-night Alaska Glacier tour. Enjoy education at sea with world-renowned educators while spending quality time with your fellow Gammill quilters and taking in the extreme beauty of Alaska and Canada. Instruction will be available for all Gammill machine types. Rates are also available for non-quilters. Reserve your spot today!
Here are just a few of the many great reasons why you should join us in June 2020.
Experience beautiful scenery: You'll have unparalleled views of ice and wildlife from the comfort of the cruise ship. On land, take part in excursions for once-in-a-lifetime experiences such as a helicopter ride to a sled dog camp.
Become a confident quilter: Our class list features more than 35 classes! From business lessons to CreativeStudio instruction to planning hand-guided designs, there is something for every quilter. View the complete class list at https://gammill.com/wp-content/uploads/2019/11/Student-Class-List-2020-1.pdf.
Make new friends/family: Have you met your fellow quilters? They are awesome people. Enjoy the comradery that comes from learning together and taking adventures together.
Learn from the best: Where can you find 11 of the world's top experts on longarm quilting? On the Gammill Alaskan Cruise of course. View the complete line up of educators at Gammill.com/alaska-educators/
Experience luxury: We are sailing on Royal Caribbean's Ovation of the Seas, the biggest boldest ship to ever sail Alaska. Its scenery scoping from the unrivaled perspective of North Star® — the highest vantage point on any cruise ship. Even interior staterooms offer real-time views from a Virtual Balcony on this ground breaking ship. Take a tour at https://bit.ly/38dzMkX
Bring your family and friends: Rates are available for non-quilters and begin at just $1,400 per person which includes taxes, port fees and gratuities.
Pricing
Conference Fees
Conference includes a minimum of 10 classes.  Please note, to attend the conference you must also book your cruise room through Gammill. All classes will be taught via lecture. No machines will be onboard.
Prior to Jan. 31, 2019: $500
After Jan. 31, 2019: $600
Cruise Fees 
Includes stateroom, gratuities, taxes, port fees, complimentary meals and beverages, Gammill Cocktail Party, Ovation of the Seas amenities such as shows and entertainment. Please note conference fees are separate. Prices are per person based on double occupancy. Triple and quadruple rooms may be available, please message contact@gammill.com for pricing.  A limited number of single rooms are available for additional fees.
Junior Suite: $2,650 per person (SOLD OUT)*
Oceanview Balcony: $2,250 per person
Oceanview (no balcony): $1,900 per person
Interior with virtual balcony: $1,400 per person
*Junior Suite – Additional Rooms: $2,850 per person
Our original inventory of Junior Suites has been filled. Additional rooms have been added at a new rate from Royal Caribbean.
VIP Experience – SOLD OUT!
Be one of the first to register and receive a special VIP package valued at more than $200 that includes a special dinner experience with Gammill crew and educators, a special gift, priority class registration, and a $50 onboard credit.  
Registration
Click here to register now. A $200 per person deposit is due upon registration. To reserve your place on the cruise, please call 417-256-5919 ext 222 or e-mail contact@gammill.com. Final payments will be due in February 2020.
Cancellations:
Prior to January 31, 2019: Receive refund less $50 per person cancellation fee. This amount is not covered by trip protection.
Prior to May 1, 2020: Receive refund less $200 per person fee. This amount is not covered by trip protection.
Prior to May 25, 2020: Receive 50% refund.
After May 25, 2020: No refunds
Itinerary 
7-night Alaska Glacier Cruise
*Subject to changes from Royal Caribbean
Friday, June 5, 2020: Setting sail from Seattle, Washington
Saturday, June 6, 2020: Cruising
Sunday, June 7, 2020: Juneau, Alaska and the Alaska Inside Passage
Monday, June 8, 2020: Skagway, Alaska
Tuesday, June 9, 2020: Endicott Arm, Dawes Glacier
Wednesday, June 10, 2020: Cruising
Thursday, June 11, 2020: Victoria, British Columbia
Friday, June 12, 2020: Seattle, Washington
Ovation of the Seas
Ovation of the Seas® opens up exotic shores — plus a world of new experiences onboard. Roller skating and bumper cars at SeaPlex. Restaurants like Jamie's Italian by Jamie Oliver and Wonderland Imaginative Cuisine, plus the robotic bartenders of Bionic Bar— all only on Royal Caribbean.
Click here to read more about Ovation of the Seas. 
Onboard Adventures
Looking for adventure? Stand in the Jewel-shaped capsule that reveals breathtaking 360-degree views as you gently ascend 300 feet above sea level. Take part in the gravity-defying Ripcord experience that gives you the thrill and exhilaration of flying in an air machine in a safe, controlled environment.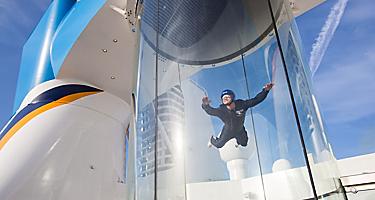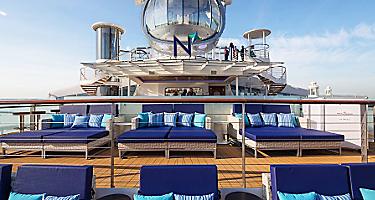 Alaska Inside Passage
Alaska's Inside Passage spans 500 miles of shoreline with  some of the world's most amazing landscapes and abundant wildlife. From the comfort of the ship, enjoy 360-degree views.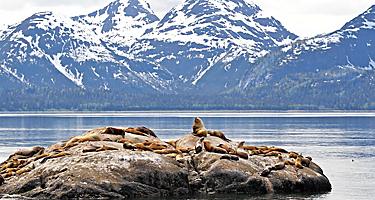 Juneau, Alaska
Juneau is the largest U.S. state capital. Flanked by mountains, tundra and rainforests, it's basically inaccessible except by air or sea. Here, you can go dog sledding over Medenhall Glacier, prospecting along old mining trails, watch for whales on a charter boat, or sample local cuisine and shopping.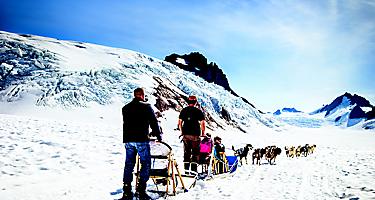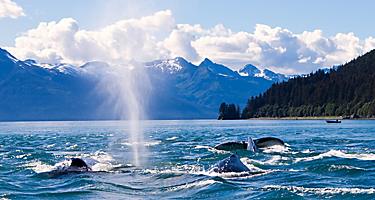 Skagway, Alaska
Skagway is an outpost for thrilling Alaskan adventure. Take an old-time street car ride along bustling Broadway Street, get lost in historical reenactments, dog-sled on Laughton Glacier, raft Lynn Canal, hike through the Chilkoot trail, find local artisan paintings, carvings and more.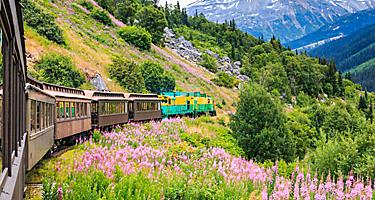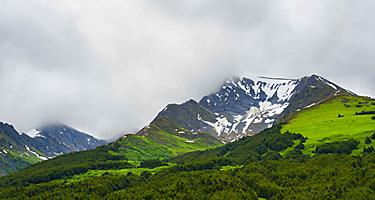 Endicott Arm & Dawes Glacier
One of Alaska's lesser-known gems, Endicott Arm Fjord, marks the southern edge of Fords Terror Wilderness area. You will be amazed by the surrounding granite cliffs, mountain valleys and dozens of gushing waterfalls as you drift through its 30-mile long stretch. Standing over 600 feet tall and a half-mile wide, Dawes Glacier is known for its spectacular calving displays, which produce huge, chunky icebergs that float in area waters.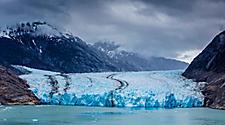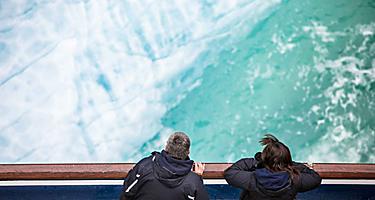 Victoria, British Columbia
One of the oldest cities in the Pacific Northwest, Victoria delivers a delightful blend of romantic British pomp and outdoor Canadian pursuits. Admire Craigdarroch Castle, bike the Galloping Good Regional Trail, explore the vivid floral displays in this "Garden City," or walk along the boat-lined Inner Harbor, home to Victoria's most notable landmarks.