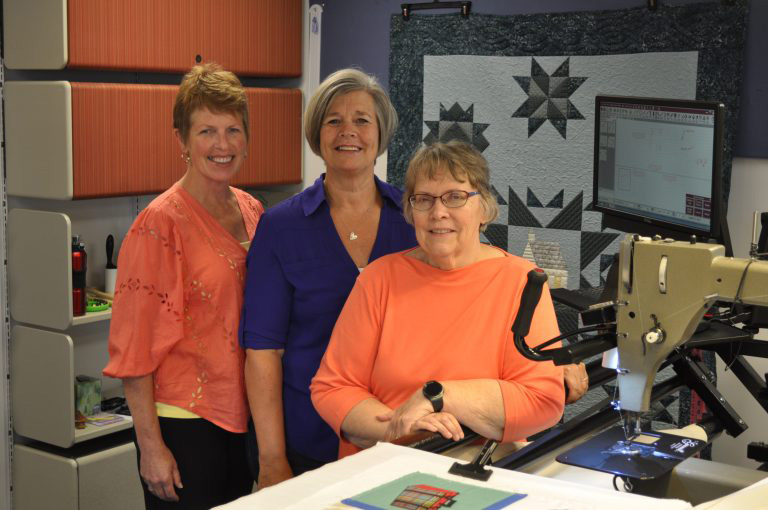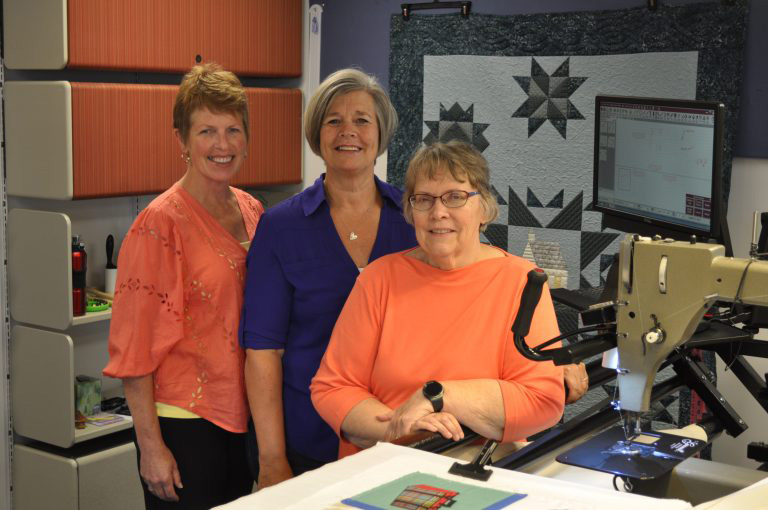 Katie Elliott  | Laurie Boeve  | Jean Poest
Nomination submitted by Barb Terpstra
Laurie, Jean and Katie are the longarm quilters at Living Threads, a non-profit ministry that serves the grieving through quilting. Each of these ladies invests their heart into each quilt that is made for a grieving family.
It is so heart-wrenching to lose a family member to death and the process to healing can be slow. Living Threads is privileged to provide a level of comfort to grieving families by the creation of beautiful quilts, wall hangings, pillows and more made from the clothing of their loved one. Many of these quilts are custom quilted to reflect the story of the children, siblings or spouses who are no longer with us.  For example, Jean recently worked on a quilt where the longarm quilted block feature was a boy going down the river on an inner-tube. Another example would be a camping scene complete with tent and tree line. Laurie worked on a quilt where one of the t-shirts was a lion head with a mane that was very detailed. She longarm quilted around each area of the mane which made a beautiful effect.
But, it's not their skill that makes them standout, although, it is considerable. It's the fact that creating something meaningful for the family is so important to them.  They don't just look at the quilt and willy nilly put a design here and there. They take the time to make sure the overall quilting is pleasing to the eye and that the story of the person it represents is reflected in a true and beautiful way. They pray over the family, the quilt design and consult with each other on ideas for the quilts. I am lucky enough to work near them, so I get to hear their conversations, their hearts, as they work on the quilts. Occasionally they ask my opinion, or the opinion of another staff member before they commit the design to the quilt.
A unique facet of our ministry is that volunteers piece the quilts for the families. When the client receives the quilt the number of volunteer hours put into the quilt are shared with them and they make a donation to the ministry. But, we don't keep their donation, we send it on to children who live in the Kibera Slum in Nairobi, Kenya. Jean, Laurie and Katie not only bless the families, but they also play a part in the mission work that blesses children that live in deep poverty.
Henri Nouwen says "We need to be angels for each other, to give each other strength and consolation. Because only when we fully realize the cup of life is not only a cup of sorrow but also a cup of joy, will we be able to drink it."
These ladies strive to bring a cup of joy to families filled with sorrow by the use of their longarm quilting skills – we appreciate them so!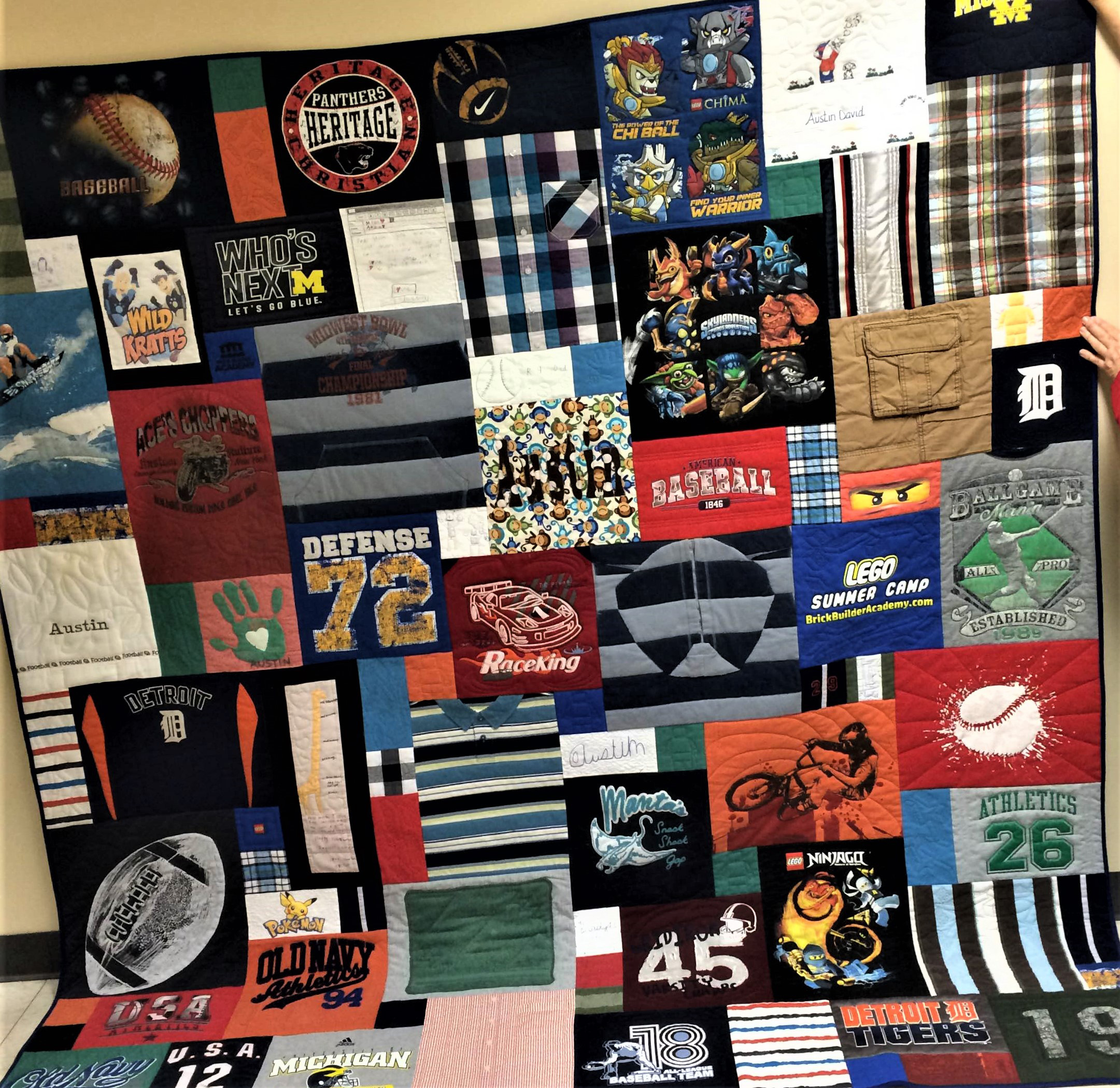 This quilt is in memory of an 8 year old boy who was tragically killed in an accident. Every memory quilt I work on gives me pause to remember the family that is grieving the death of a loved one; however, this particular quilt tugged at my heart strings as this young boy was the same age as my grandson and they both shared a love for Legos.  I was deeply moved and thankful to be a part of 'telling the story' of this young boy's life through the quilting.