At Gammill, we know that purchasing a longarm is a big investment and a serious decision. That's why our goal is to provide you with a machine that will stand up to the test of time and be an investment you can count on. That's why our warranty covers commercial use and why our machines are built to produce a high volume of quilts for many years to come.
Customer Quilts
Many of our customers use their machines to complete customer quilts. Some quilt as a full time business to support their families. A Gammill allows them to have a career and still be home with children, enjoy an early retirement or be an artist each and every day. Others use their Gammills primarily for personal use but will complete a few customer quilts each month to make financing payments. Depending on the amount financed, this may take as little as two customer quilts each month.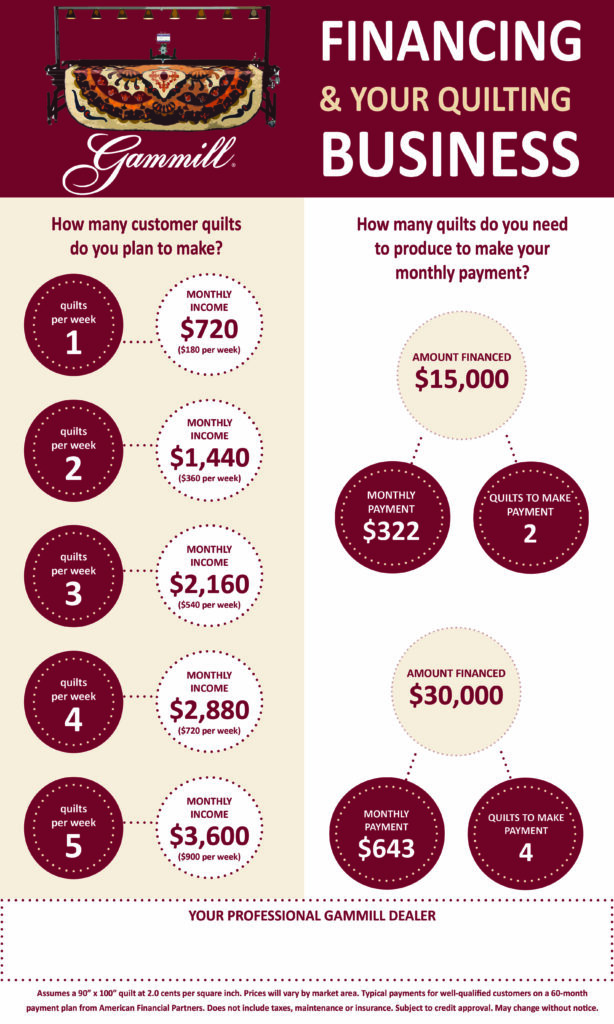 Financing Options
For those who wish to finance their Gammill, there are several options.
American Financial Partners
Gammill partners with American Financial Partners (AFP) to provide financing options to our customers. This alliance provides many benefits:
Convenience (one page application)
Minimal up-front cost with two payments in advance instead of the conventional 20 percent down payment (based on credit approval)
Collateral – AFP only asks for the Gammill® machine as collateral
Fast response time from approval to funding
No pre-payment penalty (other than initial, minimal loan fees)
Up to 5-year financing available
You can learn more and complete an online application at financeyourgammill.com or by calling 888-AFP-4520 (888-237-4520).
Arvest Bank
Arvest Bank offers financing to Gammill customers who are residents of Kansas, Oklahoma, Missouri or Arkansas. Click here to fill out an online application and select West Plains, MO for your bank location.
Business Equipment Financing is also available through Arvest Bank and its financial partners nationwide. For more information about this financing option, or for an application, contact your local Gammill dealer.
Other Financing Options
Customers often obtain financing through their bank or credit union.  To facilitate financing, a dealer can provide you with a quote listing what charges would be if you were to purchase a specific model.
Other resources
Check out our Shop & Compare page to find out more about how Gammill prices compare to other longarm brands.
Contact your local Gammill dealer for more information.