Corey Pearson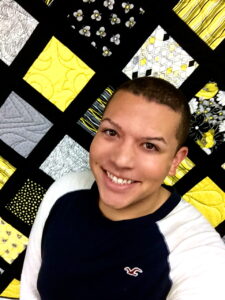 Corey Pearson – Independent Teacher
Corey is a 21-year-old quilter who has always been in love with the idea of computerized quilting. He has been around the quilting industry since he was 4 years old.  He was first introduced to the Statler in 2009 and was immediately amazed. Being a millennial Corey says he loves technology and the Statler fulfills that love. He enjoys quilting because every quilt tells a different story. "You can express yourself through the threads and fabric you choose," he said.
Corey entered his first quilts into the 2015 SUGAR Conference show and won his first ribbons. He currently attends the University of North Texas where he is pursuing a Bachelors of Business Administration with a focus in Organizational Behavior and Human Resource Management. When he is not at school, he spends a lot of his time on the phone with owners of Statlers helping them through their quilt projects and answering questions they might have.
"I love talking to different people and helping them use the machine that I love," he said.
Here is a video from Corey about how to complete an edge to edge!