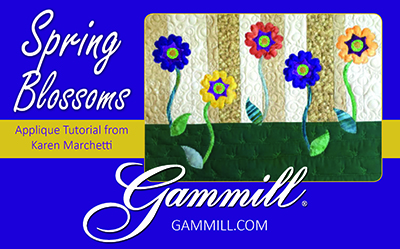 Do you have some fun colorful scraps and want to make a quick project? Gammill Quilt Artist Karen Marchetti shares the perfect idea to celebrate spring.
Karen uses her AccuQuilt Go! to cut scraps of fabrics and then raw edge appliqués them on her Gammill.
1. Start with various strips of background fabrics (also scraps) sewn together.
2. Then, add on some green for the grass. This can also be done using various strips of greens.
3. Baste your edges down on your backing and batting of choice Continue reading →
CBS News recently featured the story of Trudie Hughes who works 10 hours a day, seven days a week making quilts for La Causa Crisis Nursery in Milwaukee. Each month, Trudie makes approximately 60 quilts on her Statler by Gammill, each one unique. Thank you Trudie for what you do for your community!
http://www.cbsnews.com/news/quilter-puts-love-into-every-stich/